Ministry of National Mobilisation wins the Inter-Ministerial Domino Competition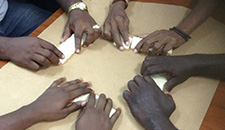 In an exciting final day of domino competition, the Ministry of National Mobilisation emerged as champions after defeating the Ministry of Tourism in the semi-finals, and later the Ministry of Foreign Affairs in the final.

In the other semi-final, the Ministry of Foreign Affairs defeated the Ministry of Education in a close contest on its way to the final table.
In the finals, following a 'best-of-three, first to 200 format', the Ministry of Foreign Affairs was off to a quick start, winning the first game and holding a commanding lead of 164 - 0 in the second, before the grand comeback from the Ministry of National Mobilisation, who won that game and the final game of the three. It was a heart wrenching defeat for the Ministry of Foreign Affairs who was in total control of the final before having such a major collapse.
In the third place play-off, the Ministry of Education defeated the Ministry of Tourism, winning two straight games.
The Division of Sports, in collaboration with the Ministry of Education, conducted several "Jump Rope For Heart" workshops. These workshops were held on: Monday 14th, at the Chilli Playing Field, Georgetown; Tuesday 15th, at the Victoria Park, Kingstown; Wednesday 16th, at the Keartons playing field, Barouallie; Thursday 17th, at the Cane End playing field, Mesopotamia; and Friday 18th, in Bequia.
---
These sessions were conducted by Shauna Thomas from the Caribbean Sports and Development Agency, along with Assistant Sports Officers: Sean Stanley, Deighton Buthler and Samantha Lynch; and Coaches Orlanzo Jackson and Hazelann Foster of the Division of Physical Education and Sports.
Click the following links to see videos of jump rope for heart: