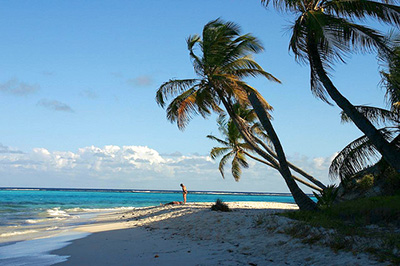 Horseshoe Reef that protects these five deserted islets, with their dazzling, palm-studded shorelines, provides some of the best snorkelling and diving in the world. The brilliant powdery, white sand, the coloured water shaded in unimaginable blues and the neo marine life beneath give true meaning to the "stop-the-world-I-want-to-get-off" Caribbean fantasy.
The Cays have been declared a wildlife reserve by the Government and all visitors are urged to preserve and protect this unique natural resource.No fishing, jet skis, or anchoring of dinghies allowed.Make your own contribution to the efforts by disposing properly of your debris, including the charcoal and remainders of your beach barbecue. Local youths may offer to remove your garbage for a fee, but avoid this temptation as some are known to dump it without care.
Petit Rameau features a beach on the south side of the cays, as does Barabel, which lies southeast of Petit Rameau. Petit Bateau provides visitors a shaded beach to the north and another beach on its east side.This easterly beach is the best choice for beginning snorkellers as it has calm shallow water.More experienced snorkellers will be delighted by the waters surrounding Horseshoe Reef, but may find it occasionally choppy. When approaching these islands, well aided by black and white day markers, be careful not to cut comers as you may end up on a coral head.Anchor in the cut between Petit Rameau and Petit Bateau with bow and stem anchors, as the current is strong.
The smallest and southernmost cay, Jamesby, features on its eastern side one of the best beaches of the group. Petit Tabac is the most inaccessible with a narrow entrance at the southwestern tip.This crescent shaped islet is covered in coconut trees planted by the late John Caldwell (a.k.a. John Coconut) formerly of Palm Island and his efforts have been continued by Glenroy Adams of Grenadines Dive, a devoted conservationist and a good choice for scuba diving in the area.
During the season local boat vendors and at hand to provide you with everything from jewellery and ice, to bread, fish and lobster.As you head out of the Cays, avoid the southern route (as it is hard to find) and pass around the leeward of Mayreau.