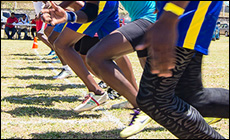 With the 2017 Inter-Secondary Schools' Athletics Championships just around the corner, the participating schools have been vigorously preparing for the event.

From an Information Technology Services Division (ITSD), exclusive interview with last year's champions, as well as the second place finishers; this year seems set for a very closely competed one. The heats will take place on 15th and 16th March, and the finals on the 23rd.

Last year's boys' defending champions are the Saint Vincent and the Grenadines Boys' Grammar School, while the Saint Martin's Secondary School placed second. For the Girls, the Saint Vincent and the Grenadines Girls' High School are the defending champions, while they were closely followed by the Central Leeward Secondary School.

In an interview with coaches and athletes from those institutions, it can be deduced that the champions are ready to defend, and the rivals are coming with a strong challenge.
Visit www.gov.vc for coverage of this year's event. See the links below for the interviews.
Boys' Champions
Click to view interview with the coach from the Saint Vincent and the Grenadines Boys' Grammar School
Click to view interview with three of the Saint Vincent and the Grenadines Boys' Grammar School's top athletes
Click to view interview with the coach from the Saint Martin's Secondary School
Click to view interview with two of the top athletes from the Saint Martin's Secondary School
Girls' Champions
Click to view interview with one of the coaches from the Saint Vincent and the Grenadines Girls' High School
Click to view interview with two of the Saint Vincent and the Grenadines Girls' High School's top athletes
Click to view interview with the coach from the Central Leeward Secondary School
Click to view interview with athletes from the Central Leeward Secondary School
SOURCE: ITSD