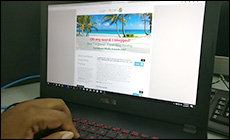 Voting is open for the best Caribbean travel blog posting. This award is given to the person voted as having written the best travel blog about the Caribbean or any CTO member country.
The award will be presented at the Caribbean Tourism Awards Luncheon on Thursday, 8th June 2017, during Caribbean Week in New York.

A submission was made by St. Vincent and the Grenadines featuring Zen's Bar, located on the Leeward side of the island.

Please click here to view the submissions page and to vote.

Voting commenced on May 6th, 2016 and will close at 11:59 pm on May 21st, 2017.
SOURCE: Ministry of Tourism, Sports and Culture