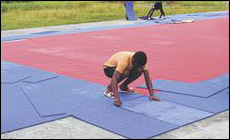 Sporting activities returned to the Gomea Hard Court in the West St. George Constituency last weekend, Saturday September 2nd, with the official reopening of the re-surfaced hard court.
The featured game showcased players from the National Senior netball team, in training for the AFNA Tournament in St. Lucia scheduled for October, versus a select team including players from the community.

The newly laid Volleyball Court, with its professionally tiled surface, also hosted a Volleyball game which featured players of the victorious SVG team having won Zone E of the Eastern Caribbean leg of the World Championship played in St. Lucia. The team is currently in training for their outing in the NORCECA Continental Championship in Colorado, USA in October.

The appreciative crowd on hand was also treated to a Soft Ball Cricket match featuring players from two of the top Soft Ball Cricket teams from the Community.

The Gomea hard court has been credited with the rapid growth of Soft Ball Cricket in the area and was the original playing area used by the Top Belair Progressive Organization (TBPO) to host the TBPO Soft Ball Cricket Tournament. As the competition grew over the years, the hard court was no longer able to accommodate the many teams who flocked to the league and was eventually moved to the Dauphine Playing Field.

Speaking at the event, Area Representative and Minister of Tourism, Sports and Culture, Hon. Cecil Mckie said that he was pleased to see the return of sports activities to the Gomea Hard court. He noted that the court catered to the needs of the community and has been a home to netball and volley ball to name a few.

Minister Mckie also explained that he received excellent reviews of the facility from the organizers of the just concluded Windward Islands Secondary School games and this augurs well for the community and sports on a whole.

In July this year, under the initiative and energies of Parliamentary Representative Cecil "Ces" Mckie, the existing Court was re-sheeted, a new court with professional tiles and bleachers built and the new and existing bleachers painted.

Mr. Anthony Dennie Speaking on behalf of the National Lotteries Authority said that the NLA was also pleased to be associated with the resurfacing of the facility.

The court will also be used to restart the ASCO Netball Tournament, with the addition of a West St. George Primary Schools Netball component as well as a development program for Volleyball in an effort to return the Community to the glory days of the Gomea Bombers, once the leading Volleyball team in SVG in the 1970's – 80's.

The evening also featured displays by Agro and Health Care producers from the Community and also witnessed presentation of sporting items to sporting achievers from the Constituency.
SOURCE: API